Resource base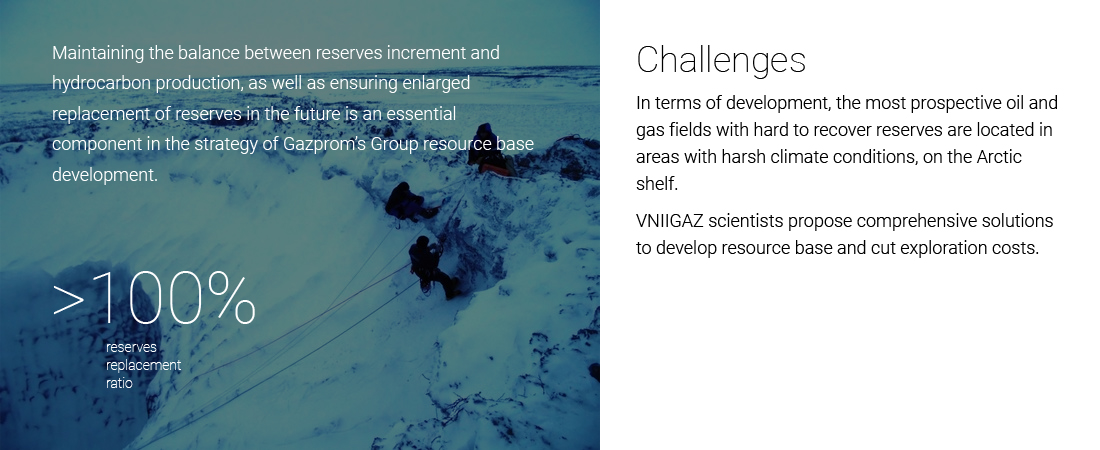 Opportunities
Examples of comprehensive works
PJSC Gazprom mineral resource base development program till 2040;
The Russian shelf hydrocarbon development program till 2040;
Working out the Master Plan for gas industry development in Russia till 2035 in the part related to the forecast of technical and engineering parameters split by types of activities with due account of the current and expected trends of strategic development of the Russian fuel and energy industry;
Adjustment of the Master Plan for gas industry development till 2030 and the Program for building up a unified system for gas production. transmission and supply in the East Siberia and the Far East considering possible export of gas to China and other APR countries with prolongation till 2035 (in the part related to mineral resource base development);
Comprehensive Program for the development of a Corporate System designed to work with cores and formation fluids, including feasibility study of the Corporate System and the Program of actions to develop domestic equipment and software, and corporate pricing for all activities related to cores and formation fluids;
Estimation and reassessment of hydrocarbon reserves of Astrakhanskoye, Chayandinskoye and Orenburgskoye fields. Substantiation of oil and condensate recovery factor;
Hydrocarbon reserves estimation for Shtokman and Yuzhno-Kirinskoye fields.
Our advantages
We take a comprehensive approach to address top rank issues related to planning, performing and finalizing findings of geological exploration;
The scale of our activities on substantiation of strategic development trends of geological exploration is not restricted by Russia and its regions, as we also work with a feedstock base of FSU and beyond countries;
We took part in all Russian offshore projects in the Barents and Kara seas, and in the sea of Okhotsk;
We carry out analytical surveys of the resource base of the global gas industry and its changes regarding development of unconventional gas resources;
We work out all types of regulatory documents: fundamental industry standards and regulations, recommendations, proposals and methods;
We organize and hold high-profile Russian conferences related to MRB and offshore development, studies of oil and gas formation systems (core and fluids), scientific and technical seminars, round tables and meetings;
We train skilled geology professionals (post graduate courses, thesis defense; annual publications of scientific articles, monographs, reviews; holding R&D conferences and seminars);
We train top-qualification personnel in oil and gas formation system studies (core and fluids) — on the basic chair of oil and gas formation system studies;
We provide conditioned storage, compile reference and representative collections, perform comprehensive studies of cores and formation fluid samples of all PJSC Gazprom's HC production facilities.
Statistics