Gas transmission and storage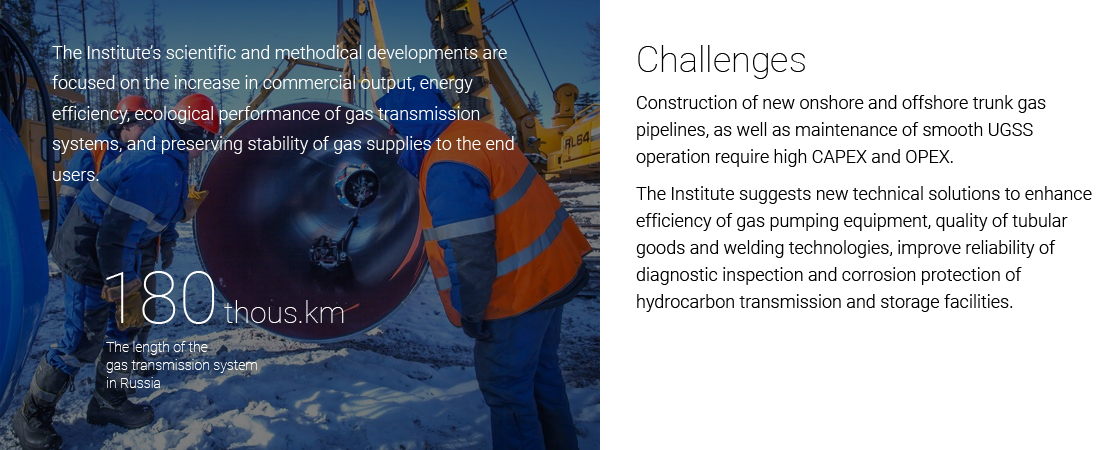 Opportunities

Examples of comprehensive works
GTS technical state and integrity management system of PJSC Gazprom (TSIMS GTS);
pre-FEED studies and implementation of PJSC Gazprom's investment projects: the Power of Siberia, Turk Stream, Nord Stream, UGSS transmission programs, Yuzhno-Kirinskoye GCF, Kharasaveyskoye OGCF, etc;
creation of innovative developments, specifically under R&D Cooperation Programs with tubular companies (Road maps with TMK, UMC, CTRP, Severstal), and Technical Diagnostics Efficiency Improvement Programs;
conceptualization of underground gas storage system construction and development in the Bolivarian Republic of Venezuela for 2007–2030;
UGS capacity development forecast for the East Siberia and the Far East to ensure reliability of gas supplies to regional consumers and export gas supplies;
adjustment of the flow chart for underground helium storage on Chayandinskoye OGCF.
Our advantages
The Institute takes a comprehensive approach to address PJSC Gazprom's foreground research and engineering issues in reliability, safety and efficiency of gas supplies to consumers, optimal and effective design, construction and operation of GTS facilities;
The Institute's methodical guidelines are in high demand by Gazprom Group companies and third party companies (out of Gazprom Group): Lukoil, Rosneft, Tatneft, Bashneft, Intergas Central Asia, etc.;
We provide methodical and engineering support of product import substitution for PJSC Gazprom's needs by domestic manufacturers (pipes and fittings, welding consumables and equipment, gas pumping and compression equipment, corrosion protection means and materials, oils and hydraulic fluids, etc.);
The Institute is a principal national developer of regulatory documentation for gas and gas condensate transmission and storage for all stages of gas pipeline life cycle;
The Institute carries out corrosion protection works during design and supervision of construction and operation of oil and gas facilities, draws up regulatory documents (interstate, national and corporate), provides scientific, methodical and engineering support during corrosion risk evaluation and mitigation.
We provide comprehensive target training and specialization of human resources in different qualifications (training of specialists from PJSC Gazprom's subsidiaries and third party companies; post graduate courses, thesis defense; annual publications of scientific articles, monographs, reviews; holding R&D conferences and seminars).
Statistics