Gas processing and use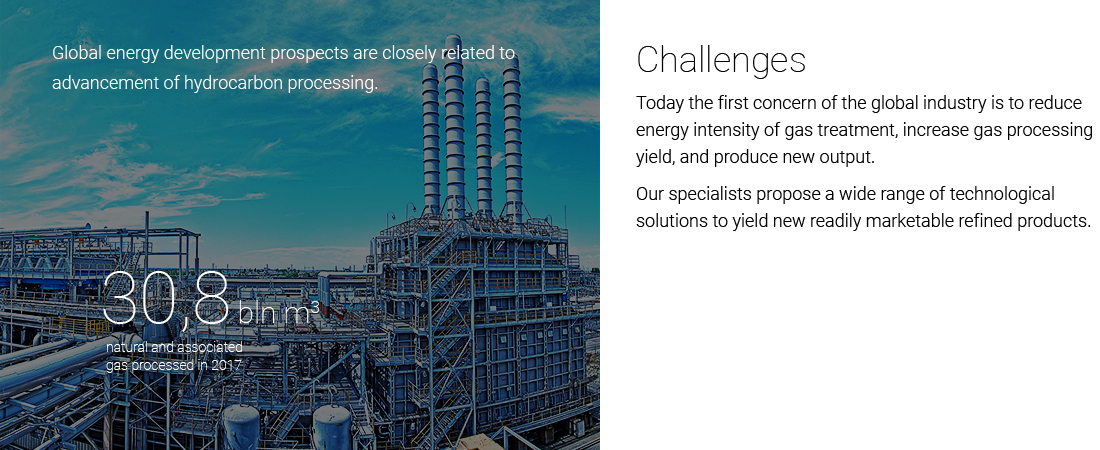 Opportunities

Examples of comprehensive works
Development of technologies, chemical agents and catalysts for raw hydrocarbons processing into readily marketable products for fuel, petrochemical and industrial applications;
Development of domestic energy-efficient technologies to extract target components from natural gas, including production of commercial helium;
Development of advanced natural gas processing technologies with application of gas chemical processes to yield new types of readily marketable products;
Development of sulphur-based technologies for production of road and construction materials;
Development of energy-saving LNG production technologies with the use of high-performance domestic equipment;
Development of technologies, absorbents, chemical agents and catalysts to treat gas before liquefaction and cryogenic separation, as well as to fulfill export requirements for natural gas and gas products.
Analysis of external and domestic markets prospects and marketing strategizing of the Company;
PJSC Gazprom development program for LNG low-tonnage production;
Development of the Program for reconstruction and technical re-equipment of PJSC Gazprom's gas motor business facilities;
Feasibility study of the project "Production and use of gas as a motor fuel in the Socialist Republic of Vietnam";
Development of national and corporate standards related to gas motor fuel, low-tonnage production and consumption of liquefied natural gas.
Advantages
We use a comprehensive approach to address PJSC Gazprom's key R&D issues related to gas processing and use;
We propose world-class design and engineering solutions;
We work out all types of regulatory documents: fundamental industry standards and regulations, recommendations, proposals and methods;
We train skilled professionals (post graduate courses, thesis defense; annual publications of scientific articles, monographs, reviews; holding R&D conferences and seminars).
Statistics