Scientific events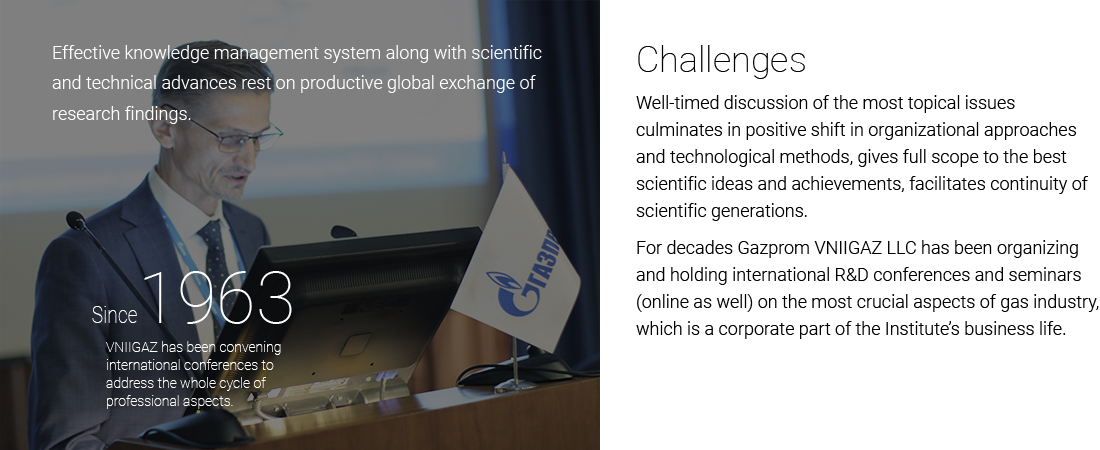 Dear colleagues,
The year 2022 is going to be rich and full of remarkable events held at Gazprom VNIIGAZ LLC! Those postponed in 2021 due to COVID-19 will be added to the list of previously scheduled conferences.
Gazprom VNIIGAZ conferences and seminars enable participants to exchange experience with colleagues, learn about cutting-edge achievements and practices, improve corporate competences and attract attention to their companies' products and services. Most of the events will take place in hybrid format to attract a greater number of participants and enlarge a circle of delegates and speakers. The officials from the core industry ministries and agencies, leaders of the expert community and top managers of the Russian and foreign companies, scientists, specialists, post-graduates and students of specialized universities are always welcome to our fora.
Conference and exhibition department invites you to take part in the following significant events of 2022:
The best papers and reports 2022 will be included into the scientific-technical collection book «Vesti gazovoy nauki» (Gas Industry News).
Information on dates, and other participation details are posted on: this page.
We are looking forward to seeing you online or offline at Gazprom VNIIGAZ conferences!